Learn to Swim Classes Emphasize Water Safety
Posted on: April 16, 2018
One of the best things parents can do for their children is to give them the opportunity to learn how to swim. It's imperative for everyone to understand water safety, and to be able to make a proper, informed decision when the situation calls for it.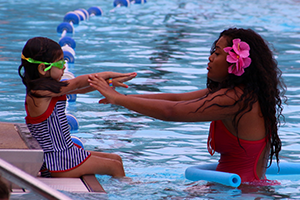 The Glen Ellyn Park District offers Learn to Swim programs so that children in the community can learn appropriate water safety skills that will reduce – or hopefully eliminate – water accidents, and will encourage a lifelong enjoyment of water activities.
"Water safety is extremely important to the Glen Ellyn Park District," said Chad Shingler, Assistant Facility Supervisor and Aquatics Program Manager for the Glen Ellyn Park District. "It's vitally important to our Aquatics staff that everyone, including our visitors, knows how to prevent water emergencies from happening."
The Glen Ellyn Park District offers a two-level Parent/Tot Water Exploration class: Level I is for infants 9 – 18 months, and Level II is for toddlers ages 18 months – 3 years. Parents are required to attend both class levels.
"Safety starts at a young age," explained Shingler. "We want kids to feel comfortable in the water, and this class gives us a chance to teach parents how to keep their kids safe. Our class instructor is actually a facilitator, and the parent becomes the instructor. They teach their child how to float, and even more importantly, to understand they can't enter water of any kind without their parent's permission." Parents also learn to prevent and manage aquatic emergencies, including basic CPR instruction.
For ages 3-5, the Park District offers a Preschool Learn to Swim class, which covers water safety and basic swimming skills. "We teach skills in a progression, starting with blowing bubbles, getting the head and ears wet, and eventually floating, gliding, and basic swim strokes," added Shingler. "We teach them how to wear a life jacket, how and why to wear sunscreen, and what to do if someone falls in the water. We teach them to not go in after someone, but to toss them something to help them float."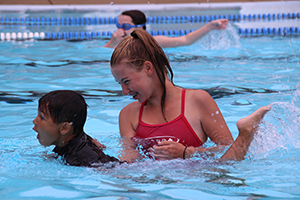 The Glen Ellyn Park District has created a new and improved Youth Learn to Swim program for ages 6-15. Skills taught include floating, gliding, freestyle (with breathing techniques) and backstroke, and the more advanced breaststroke and butterfly strokes. If desired, participants can learn skills to help them transition to the Gators Swim Team program.
"Some parents are afraid of water, and thus their kids don't learn to swim at a young age," said Shingler. "At the Park District, it all comes back to safety – we teach kids of all ages how to respect the water and how to stay safe in the water. Add to that the physical exercise, the outdoor fun, and the chance to socialize with their peers, and it's a great, well-rounded experience for all ages."
For more information about the Glen Ellyn Park District's Learn to Swim programs, please visit www.gepark.org/aquatics.