Sunset Pool Hosts Family-Friendly Summer Events!
Posted on: April 17, 2018
There's nothing like spending time at your neighborhood pool on a hot summer day. Swimming and kicking back with family and friends is one of the best parts of summer vacation. In addition to offering refreshing swimming opportunities at Sunset Pool this summer, the Glen Ellyn Park District is kicking it up a notch with a wide variety of fun-filled events for the whole family to enjoy.
"We want our visitors to experience something new," said Chad Shingler, Assistant Facility Supervisor and Aquatics Program Manager for the Glen Ellyn Park District. "It's important to the Glen Ellyn Park District to offer opportunities for our community members to keep active and spend quality time outdoors."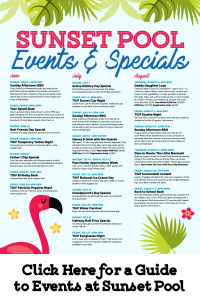 One great upcoming event for this summer is the Water Carnival. "We're so excited about the Carnival on Friday, July 20th," said Shingler. "From 6-8 pm, visitors can play games and do various fun activities. We'll be awarding prizes all evening. There will be different stations for different age groups, but all ages are welcome."
There will be some contests in the pool, but there will also be carnival-themed games that won't be in the water. "We'll have a ring toss, a water balloon toss, and Bozo Buckets," added Shingler. "We expect a great turnout, and we know everyone will have a wonderful time."
Sunset Pool will also host Sunday Afternoon BBQs on June 3rd, July 8th, and August 5th, from 12-3 pm. Meatheads Burgers will be available for purchase, along with a chance to spin the prize wheel for future meals at Meatheads!
The TGIF Cannonball Contest is set for Friday, August 10th from 6-8 pm. "We did a similar contest last year, and had a great turnout," said Shingler. "It was fun to see the kids support and root for each other. Participants can choose from three diving boards (low, medium, and high) for their Cannonball jump. We'll have a panel of judges to choose the winner; the prize is four free passes to Holes & Knolls Mini-Golf Course, along with bragging rights as the Cannonball Champion."
On Sunday, July 8th, from 4-5:30 pm, kids ages 7-12 can participate in Games & Grub with the Guards. "This is a fun and entertaining way for kids to learn about what lifeguards do," explained Shingler. "They'll spend time swimming, playing water games, and hanging out with their favorite lifeguards. This event doesn't teach lifeguarding skills or policies, it's just a fun, informal way for kids to get the inside scoop on what it's like to be a lifeguard."
Another popular event, the "dive-in movie", will present The Little Mermaid on Thursday, August 9th, at dusk (approximately 8 pm). "Everyone loves The Little Mermaid, especially singing along with the characters," said Shingler. "The movie will be shown on a big blow-up screen, and visitors can float in the pool and watch the movie at the same time." The concession stand will be open from 8-9 pm.
The Glen Ellyn Park District will host a variety of additional events throughout the summer, including the Teen Splash Bash, TGIF Temporary Tattoo Night, Father's Day Specials, and TGIF Patriotic Popsicle Night in June. In July, come for the Active Military Day Special, Pass Holder Appreciation Week, TGIF National Ice Cream Day, and Grandparents' Day Specials. The TGIF Slushie Night and Back to School Bash in August will wrap up a fun swim season. Click here to download a calendar of events at Sunset Pool.