Glen Ellyn Challenged By Oswegoland to "Monday Miles"!
Posted on: May 15, 2018
Three years ago, Kristie Vest, Special Events Supervisor for the Oswegoland Park District, created the Monday Miles program to bring residents together for community involvement and healthy exercise.  For 2018, she had the interesting idea to challenge residents of the Glen Ellyn Park District to see which community could log the most miles each week during the summer.
---
HOW IT WORKS
The Monday Miles program starts on June 4th, and continues for ten weeks (until August 6th).  Participants will be charged $3 per night (cash only), or $20 for all 10 evenings (register here). The flat fee is the same regardless of the distance chosen (1, 2 or 3 miles). Monday Miles will take place from 6:30 – 8:00 pm at Ackerman Park in Glen Ellyn.  If you attend 8 (or more) Mondays, you'll earn a free t-shirt!
---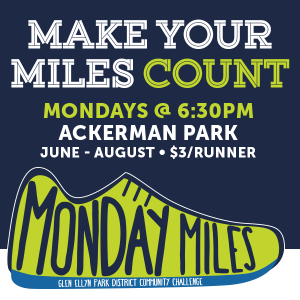 "There are so many 5Ks and 10Ks for people to run; we're offering a 1, 2, or 3 mile option," explained Vest. "The shorter courses are less intimidating. We just want people to come and join their friends and neighbors in the park."
Vest grew up in Glen Ellyn, and her first job was with the Glen Ellyn Park District. "When I was thinking of creating a competition, I immediately thought of Glen Ellyn," she said. "It's similar in size to Oswegoland, and I knew the Glen Ellyn Park District staff would enjoy a good-natured competition."
In both park districts, there are many events throughout the year that cater to children and families.  "Monday Miles offers opportunities for individuals, seniors, friend groups, children, and families to enjoy time together in the beautiful summer weather," added Vest. "It's easy to put off exercising or even just getting outside in the summer, so this gives people a good reason to enjoy the outdoors."
On Tuesday mornings, the totals will be tabulated to see which group logged the most miles during the prior evening. "The runners and walkers like to see their progress over the summer," said Vest. "Some go on to run 5Ks and other races after training all summer. The competition side of it is just for fun; we mainly like to see residents getting out to enjoy their parks."