Freedom Four™ 4- Mile Run Returns on July 4th! Registration Underway.
Posted on: June 13, 2018
It's never too early to make your July 4th celebration plans! In Glen Ellyn, Park District staff members are excited to offer an entire day of fun for families.
Start off your holiday with some early morning exercise. The Freedom Four™ 4- Mile Run, for ages 5 and up, is one of the biggest events of the running season, with the added benefit of raising funds for recreation scholarships. "The Glen Ellyn Park District Scholarship Fund helps families in the community who are experiencing economic hardship, allowing them to participate in a variety of recreational activities," said Courtney O'Kray, Marketing & Communication Supervisor for the Glen Ellyn Park District. "That could include a family pool pass or youth athletic program."
The race begins Wednesday, July 4th, at 8:00 am at Lake Ellyn Park. "The Freedom Four™ has been around since 1981," added O'Kray. "It's exciting to see the race grow in participation every year. In 2017, we had almost a thousand runners, and we hope to see even more people choosing to run for a good cause in 2018." Lake Ellyn Park is the place to be on July 4th in Glen Ellyn, with the Freedom Four™ kicking off the day, followed by a July 4th Parade, then Afternoon Festivities, and ending with fireworks.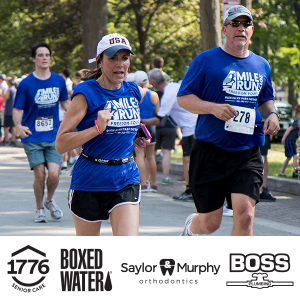 The 2018 Freedom Four™ 4-Mile Run is sponsored by Saylor & Murphy Orthodontics, 1776 Senior Care, and Boss Plumbing. "Boxed Water will also be donating their product for the event, which we're really excited about," added O'Kray. "Their packaging is more eco-friendly than plastic bottles, and is more efficient to produce and ship. As the Park District is placing a special focus on creating "A Greener Glen Ellyn" this year, we think their involvement ties in well with that initiative."
Awards will be presented to the top two male and female finishers of the Run. Winners will be recognized in each age division at approximately 9:30 am in the park band shell.
Early bird registration participants are guaranteed a Freedom Four™ 4- Mile Run t-shirt; those who register after the early bird deadline (Thursday, June 28 at 11:59 pm) will receive a t-shirt while supplies last. Runners should register at www.FreedomFourRun.com; registrations are not accepted at Park District offices.
After the race, the community can enjoy the 4th of July Parade, which is presented by the Glen Ellyn Fourth of July Committee. For more information on the parade, please visit www.GlenEllynFourthofJulyCommittee.com.
Following the parade is Afternoon Festivities, a family-friendly event courtesy of the Glen Ellyn Park District. A $3 cash-only wristband gives kids of all ages access to the fun! From 1-4 pm, families can enjoy moonwalks, inflatable obstacle courses, penny carnival games (tickets are redeemable for prizes!), live music and dancing, and face painting. Concessions will also be available for purchase.
"Events like this are a great benefit for our community," said Ryan Miller, Freedom Four™ Race Coordinator. "It gives us the opportunity to come together in a fun and healthy way. We're excited to have the Run kick off the July 4th events, while raising funds to help those in need."
For more information about the Freedom Four™, please contact Ryan Miller at rmiller@gepark.org, or at (630) 317-0134.