Field Hockey: A Coach's View
Posted on: August 13, 2018
Field hockey is a fun, fast-paced sport that dates back to the mid-1800s. While it may not receive the same attention as soccer and football, it's becoming a very popular sport for both girls and boys. The Glen Ellyn Park District is offering a fall Field Hockey program for girls in grades 1-8, and for boys in grades 1-6.
Brad Payne is a field hockey coach and umpire for the Glen Ellyn Park District and other organizations. "I was born in Connecticut and lived there for many years, so I was always familiar with field hockey, although I didn't play it as a kid," he explained. "I got involved with the game when one of my daughters signed up to participate in the Glen Ellyn Park District program when she was in sixth grade. I volunteered to help out during the skills and drills activities, and that led to me being hired on as a coach. Shortly after that, Glenbard West's Head Coach, Karen Judge, approached me about umpiring, and that opened up all kinds of other doors. I've been busy coaching and umpiring ever since."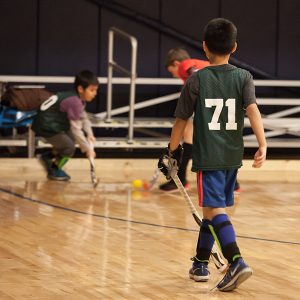 Field hockey is a wonderful sport for beginners, even for those who don't consider themselves athletic. "Field hockey is really fun to play," said Payne. "It's pretty easy to get going, and the basic concepts are simple, but the techniques and skills involved in playing also provide challenges that keep kids interested as time goes along. There's very little risk of injury, and there's no physical impact between players, so we can start kids at any age. They learn the basics quickly and have a blast playing it. It really is accessible to everyone."
In Europe and Southeast Asia, the game is wildly popular with both girls and boys. "Playing for field hockey clubs in Europe is actually a viable career for many women and men," said Payne. "In America, the game is more popular with girls, but that's changing over time. I've seen more and more boys playing the game, and I expect we'll continue to see that growth. Kids discover how much fun it is, and they tell a friend, and the numbers keep going up. Field hockey also appeals to parents looking for alternatives to sports that carry a risk of concussion and broken bones."
Payne's primary focus as a coach is helping beginners to learn and to love the game. "I share the philosophy of Head Coach Enrique Zorrilla, that the kids learn best with mini-games and playful activities," he said. "All of our coaches want the kids to have fun while learning the rules and techniques that eventually lead to strong playing skills and life-long participation in the sport. My goal at the Glen Ellyn Park District is to help keep the program growing and succeeding the way it has been. It's a great group of people with a thriving program. I'm lucky and proud to be involved with it."
As a coach, Payne enjoys watching the kids learn and seeing their skills develop over time. "It's great to see kids move on to great playing careers in high school and college. Many of them come back and visit as adults, and some of them even come back and coach," he added. "As an umpire, I love the challenges involved in positioning myself to have good vision of the action. I enjoy anticipating the play and reacting to what happens on the field. It's a fast game that involves a lot of running, and it forces us (as umpires) to make quick decisions. As a result, it's challenging mentally as well as physically. We get the best seat in the house, and it's great to be right on top of the action as these terrific athletes compete."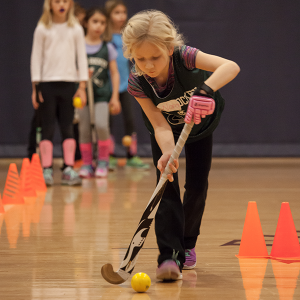 There are many benefits that field hockey provides to the players, as well. "Field hockey provides great physical exercise, because it involves a lot of running and chasing, but it also involves passing and eventually scoring goals," explained Payne. "It's definitely a team sport that offers opportunities for all kinds of kids. For example, some like to stay back and defend, while others prefer racing ahead and shooting on goal. Some kids like to kit up in goalie gear and deflect shots on goal. There's a place for everyone."
The kids also enjoy making new friends along the way; they may play with or against a lot of the same kids throughout the years. "Eventually, for the kids who continue to play through high school, it's common for them to play on college teams, and that can even lead to scholarships and careers as international players," said Payne. "It's definitely a life-long sport."
The Glen Ellyn Park District recognizes that there is a place for both recreational and competitive activity. "We're lucky to have the support of such a wonderful park district," added Payne. "We have great coaches who have experience, and who have demonstrated success in both the recreational and competitive arenas. Kids who just want to have fun can find a home here, and kids who want to travel and compete can also find a home here. It's a nice balance, with plenty of opportunity for all kinds of kids. There's an indoor version of the game that we play in the winter, and the outdoor game is played year-round since we have access to great facilities available through the Glen Ellyn Park District."
Registration for Boys and Girls Field Hockey through the Glen Ellyn Park District is now open for both residents and nonresidents. Practices are held at Ackerman SFC, and games are played at Memorial Field (Glenbard West High School). The program runs from September 13th to October 28th, and meets twice each week. For more information, please contact Christine Hartnett at chartnett@gepark.org. Register online at www.gepark.org/register.