Plogging Offers Health Benefits, Reduces Litter
Posted on: November 25, 2018
It's hard to understand why some people make the choice to throw their trash on the ground rather than find a waste receptacle to dispose of it. Studies show that the main reason people litter is because they don't have convenient access to a trash can, not because they don't care about the environment. And if they're in an area that already has a fair amount of litter, they're more likely to add to it.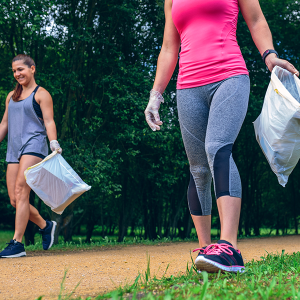 There are also misunderstandings about what types of litter are biodegradable. For example, many people believe that cigarette butts will decompose naturally in the environment, but that is incorrect. Cigarette butts contain a type of plastic that is unable to completely break down, which adds to our global pollution problem.
Interestingly, a new craze is growing in the United States, and Sweden is responsible for it. Plogging, which got its name from the combination of the Swedish term "plocka upp" (picking up) and "jogging", is the act of picking up trash while jogging. This eco-friendly fitness trend has expanded throughout Europe and into the U.S., with various plogging groups leading the charge.
Here in Illinois, park districts are hoping the activity will catch on. Since many adults and kids enjoy jogging and hiking along the woodsy trails and other paths, plogging would not only continue to offer good exercise, it would help the environment. Ploggers can bring a plastic trash bag to hold the trash they pick up, and dispose of it at one of the waste receptacles situated along the trail or sidewalk. For those who are squeamish about touching others' trash, wear tight-fitting medical-style gloves during the run.
"Each May, we work in concert with The Conservation Foundation to help organize and run the local effort of the DuPage County River Sweep, an event where community members pull trash out of the river and along its shorelines," said Renae Frigo, Naturalist with the Glen Ellyn Park District. "Plogging is a great idea, because people in the community who enjoy exercising outdoors would be helping in a similar effort, but on a daily basis. Best of all, it would help keep trash out of our rivers, parks, and other special community areas."
From the standpoint of physical exercise, plogging offers additional benefits beyond just jogging. Carrying extra weight (in the form of trash you've picked up), and having to bend over and squat down, gives the plogger more of a full body workout. And not only are you helping the planet, you're encouraging other joggers (and walkers) to do the same. One statistic estimates that over 60 million Americans went jogging or running in 2016, while over 100 million more used walking as their preferred form of exercise. Imagine if each of these people picked up even just 10 pieces of trash along their route each time they went out, how much cleaner their communities would be. Continue the trend! #plogging