Sign Up Now for the New Fall Youth Basketball League
Posted on: August 14, 2019
The Glen Ellyn Park District is excited to announce its Fall Youth Basketball League! This brand new league, geared towards boys and girls in grades 3-8, offers a shorter 6-week season for anyone interested in having extra preparation time before the 10-week Winter Basketball League program, and also gives new players a chance to try it out before committing to the Winter Basketball League.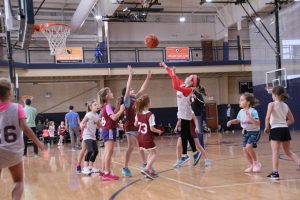 "While the program is for boys and girls, the teams are created separately; it's not a co-ed league," said Christine Hartnett, Recreation Supervisor for the Glen Ellyn Park District. "We developed this new league because we wanted to offer another option for basketball during the Fall season. We were getting requests for more basketball options, and some wanted the chance to play basketball during the Fall because the Winter league didn't fit into their schedule. This league also offers an additional recreation option for kids in this age group."
The registration deadline is September 6, 2019. Practices begin the week of September 23rd, and games begin the week of October 5th. Registration is available online by clicking here.
Practices will be held during the week at local schools, and games will be held at the Ackerman Sports & Fitness Center on Saturday evenings between 4-8 pm. "Our Fall league features a 6-week practice schedule, plus a playoff week," said Hartnett. "At the end of the season, all grade levels will compete in a single-elimination tournament; this ensures that each team will play in a minimum of 7 games. At the end of the tournament, the 1st and 2nd place teams will win an award."
Teams will be formed around each coach and assistant coach, and will generally be created based on which school each child attends. "Forming the teams in this manner is great, because there's a high probability that participants will be able to play with or against their friends," added Hartnett. "It also offers options for carpooling so that parents can share driving responsibilities."
All participants will receive a reversible team jersey for game play.
For more information, please contact Christine Hartnett at chartnett@gepark.org or call (630) 942-7268.