Serve, Hit, and Volley at a Free Platform Tennis Clinic
Posted on: August 15, 2019
We're offering free Platform Tennis clinics on Friday, September 20th to introduce new players to rules, techniques, and strategies of the sport! Taught by some of the area's top professionals, the clinics will be held from 5 to 6 p.m. for juniors (ages 6-17), 6 to 7 p.m. for women, and 7 to 8 p.m. for men at Maryknoll Park, 845 Pershing Ave, Glen Ellyn. Advanced registration is required at www.gepark.org/register.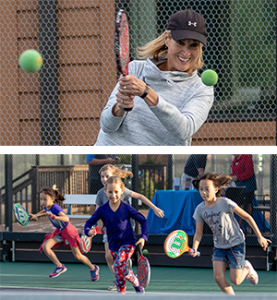 After the clinics, participants will have the opportunity for open play to practice what they've learned and to watch a Pro Exhibition. Light snacks and beverages will be served.
Platform Tennis is easy to play and shares the strategies, athletic requirements, and competitiveness of tennis, but is played on a raised and smaller court. As with any fast-paced sport, Platform Tennis offers a myriad of health benefits, both physical and mental.
The game can be played with single participants but is more commonly enjoyed in teams of two and often in the winter month. Playing in pairs makes it even more fun and adds a social element to the game!
For more information, please contact Mark Cunnington at gepaddlepro@gmail.com.