Register Now for Winter Youth Basketball League
Posted on: October 22, 2019
Is your child interested in playing basketball this winter? The Glen Ellyn Park District offers a Winter Youth Basketball League geared towards boys and girls in grades 1-8. Registration is open from now through Friday, November 1st.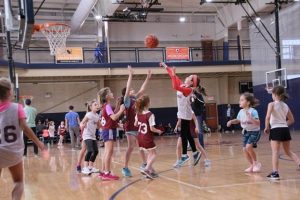 "Our goal is to provide a friendly atmosphere where kids can learn the rules and skills of basketball, along with good sportsmanship," said Brad Thomas, Recreation Supervisor for the Glen Ellyn Park District. "Kids are encouraged to participate regardless of their skill level; everyone will have an equal chance to practice and to play."
Practices will begin the week of January 6th and will be held at Ackerman Sports & Fitness Center and local school gymnasiums, depending on each volunteer coach's schedule. Games will be held at the Ackerman Sports & Fitness Center on Saturdays starting January 18th.
Players in 1st and 2nd grade are placed on teams according to their schools, while kids in higher grades will attend an evaluation session and be drafted to teams by coaches. "The younger grades will focus more on fundamental skills, such as passing and dribbling. Players in higher grades will focus on further developing their skills and teamwork," continued Thomas.
Registration is available online at www.gepark.org/register. The program costs $120 for residents or $170 for non-residents. Each player will receive a reversible jersey.
Interested in a leadership role on the court? Glen Ellyn Park District is seeking coaches! Our youth leagues rely heavily on the generosity of parents and volunteers to provide coaching support. Please visit gepark.org/youth-basketball to complete the volunteer coach form. There is no experience required and training will be provided.
For more information about the Winter Youth Basketball League, please contact Brad Thomas at bthomas@gepark.org or (630) 942-7288.