First Public-Use AEDs Installed in Three Parks
Posted on: August 31, 2021
The District's first outdoor automated external defibrillator (AED) units have been installed in three parks. Located at Ackerman (two locations), Newton, and Village Green Parks, the AEDs are mounted in a heated and weatherproof cabinet. When removed from the cabinet, a call is placed to 911 to contact emergency personnel. The units will be available in the parks from April through October.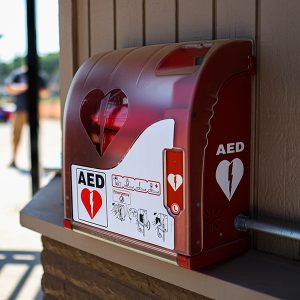 "We wanted to place the AEDs in areas of high activity as a safety measure for our park visitors and program participants," said Clint Babicz, Assistant Superintendent of Athletics. "In the event of a cardiac emergency, public access to AEDs can save lives."
Visitors to the three parks should look for the AED sign to locate the device in case of an emergency.
Ackerman Park: Softball Hub Concession Building and Upper Ackerman Soccer Fields
Newton Park: Football Press Box
Village Green Park: Concession Building
Any individual may use AEDs in response to a cardiac emergency. The units are simple to use, prompting the user with step-by-step verbal instructions and delivering a shock only if needed. All three units are equipped for use on both adults and children.