Glen Ellyn Park District's Ackerman Park Softball Fields Earn First DarkSky Approval in the State
Posted on: September 20, 2023
Ackerman Park's softball fields, part of the Glen Ellyn Park District, have achieved DarkSky approval, making them the first outdoor sports complex in Illinois to receive this certification.
The DarkSky Outdoor Sports Lighting Program is a certification process designed to help communities reduce light pollution while maintaining adequate lighting for outdoor sports activities. The award is reserved for outdoor lighting solutions that have been proven to substantially reduce light pollution relative to non-certified facilities of similar functions.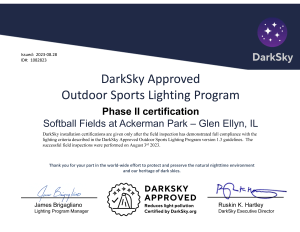 "We are thrilled to lead the way as the first outdoor sports complex in Illinois to attain this certification," said Dave Thommes, Executive Director with the Glen Ellyn Park District. "This designation underscores our commitment to sustainability while providing our residents with high-quality recreational spaces."
To earn DarkSky approval, the softball fields underwent a comprehensive design review and onsite inspection process, focusing on the types of lighting fixtures, projection angles, controls, and the overall impact of the lighting on the surrounding environment. The fields are equipped with LED fixtures designed to direct light down onto the playing area, thereby reducing glare and light pollution.
"This project is a great example of responsible lighting design practices, thoughtful planning, and successful implementation. The DarkSky Approved Outdoor Sports Lighting Program provides the technical framework that allows forward-thinking communities like Glen Ellyn to avoid nuisance light, i.e. light trespass and glare, and protect their night sky resource," said James Brigagliano, Lighting Program Manager with DarkSky International.
For more information about the DarkSky Outdoor Sports Lighting Program, please visit darksky.org.